Custom Glass Coasters With Logos
Glass coasters with logos are an elegant and effective way to strengthen your branding at a venue or event. They protect tabletops whilst showcasing your logo to
the user, helping with brand recall and contributing to a great experience at your establishment.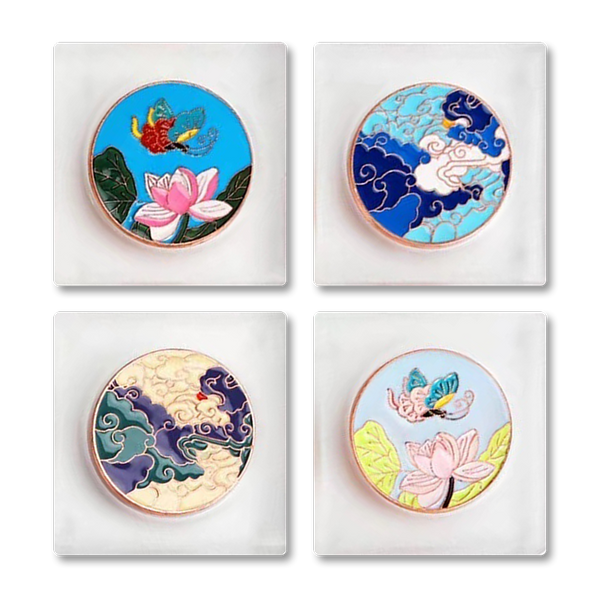 Step

Select Style

Total Qty:

0

|Price: $

0.00

Customized Glass Alloy Coaster
1 sizes available


Super Absorbent Bar Coaster
4 sizes available










Customized Crystal Carving Coaster
1 sizes available






Leather Bottle Opener Coaster
1 sizes available


Customized Bottle Opener Coaster
1 sizes available



Customized Ebony Alloy Coaster
1 sizes available

Custom Photo Fiberboard Coasters
2 sizes available

Cotton & Linen Embroidered Coasters
4 sizes available



Custom Handmade Walnut Coaster
4 sizes available



Soft Plastic Record Coaster
1 sizes available
Step

Customize Your Coaster

Total Qty:

0

|Price: $

0.00
At least 1 artwork file required with selection with Upload My ArtWork.
Preferred File Type for Better Quality Product: AI, EPS, PSD, PDF
Accepted File: JPEG, JPG, GIF, PNG, EPS, PDF, PSD, AI, BMP, TIF, TIFF

BEFORE WE START YOUR ORDER, WE WILL SEND A FREE DIGITAL PROOF OF YOUR CUSTOMIZED PRODUCT.
Step 6

Choose Your Guaranteed Delivery Date

Total Qty:

0

|Price: $

0.00
Review Order Details
Customized Glass Alloy Coaster
Logo Glass Coasters Description
Strengthen your brand impact in your physical location by designing custom glass coasters with logo imprinting. We craft them using high-quality glass to provide tabletop protection and abundant style. Your logo can be printed or engraved in intricate detail for an impressive and enduring visual impact with guests, customers and other attendees. Use them to promote your business, refine your corporate event or elevate a special occasion; in any case, glass coasters with logos will have an impact. Boost your brand's overall presence by designing your own glass logo coasters for an elegant and functional solution that merges aesthetics with practicality. Your logo will be front and center at all times.
SPECIFICATION
Material:
Glass
Shapes:
Square
Thickness:
3mm
Printing Option:
Front or Both sides
Printing Method:
Imprinted and debossed
Sizes Available:
3", 3.5", 4",and 4.5"
Why choose glass logo coasters over other materials?
Glass coasters exude a distinct elegance, showcasing a level of sophistication unmatched by many other materials. In addition to their durability, glass coasters provide various logo application options. Opting for glass coasters with logos ensures a versatile product that not only serves its purpose effectively but also doubles as an exquisite table ornament.
Can these logo glass coasters be used at home as well as for commercial uses?
Absolutely! While a custom design can certainly include a logo, glass coasters offer the versatility to be personalized with various designs suitable for any setting or occasion. Embrace your creative side, and you'll find that you can design the perfect addition to your home interior.
Are small orders available or is there a minimum order requirement?
We accommodate orders of any size—you could even request a single glass coaster with a logo. However, discounts are available for bulk orders, enabling you to save money when obtaining a larger quantity for your event or business.
Can I customize my own glass coasters with logo?
Yes, you can customize your own glass coaster with your preferred designs, logos, or personal messages.
What customization options are available for custom personalized logo glass coasters?
Custom glass coasters with logo offer a variety of customization options, including choosing the design, artwork, and even adding personalized text or branding to create a unique and delightful coaster for your tea time.
How do I submit my custom design for personalized glass coasters with logo?
We allow you to upload your artwork via email or through our website. Accepted file formats are JPEG, JPG, GIF, PNG, EPS, PDF, PSD, AI, BMP, TIF, TIFF.
What materials are commonly used for personalized logo glass coasters?
Glass coasters with logo are typically made from materials like glass to provide a protective and stylish surface for your tea cups.
Can I order custom coasters in small quantities?
Yes, absolutely. Our minimum order quantity for custom glass coasters is 50.
Do you give discounts to first-time customers?
We don't just give a discount for first-time customers; you can always have 10% off every time you place an order! Just use the SAVE10 coupon code upon checkout.
How can I pay if I chose the Pay Later option?
The easiest way to make a payment is by clicking the Proof Approval Link. Once you approve the proof, the system will route you to our payment page. You can also call or chat with our friendly customer service associate to assist you with the payment.
Is my bank information required if I choose the Pay Later option?
No bank information is required. The order can be canceled should the proof fail to meet your standards. Please note that we will do every attempt to keep the order by revising the proof until you are satisfied. If it still doesn't work, we can proceed with the cancellation.
What if I need to make changes after I order?
If you need to make any changes, please contact our customer service as soon as possible. No changes can be made to an order once the proof has been approved, and the production process has begun.
What happens if there is a mistake on my order?
When an error has been confirmed made by our production staff, we will process the remake exactly as how you originally requested, minus any errors that we made, at no extra cost.
Can I preview before I purchase?
We offer you a free proof before you decide to purchase, and a hassle-free experience. Simply fill up your order details, and after checkout, you may select the option of "See Design - Pay later" as a payment method. We will send you the proof once you submit the order along with the payment and proof approval link.
How do I check the status of my order?
You can always reach out to our Live Customer Service Associate via phones, emails, and chats to check the status of your order.
Do I have to have my artwork ready when I order?
It would be better if your artwork is ready at the time that you are placing the order. However, you may also upload your artwork after you order as well by emailing us. The Subject of the email would be, Artwork: Order ######
Can I place my order online?
Of course, you can. Following are the ways you can place your order: 1. Online 2. On the phone 3. On chat 4. Via email
Glass Coasters With Logo Reviews
Photos of Glass Coasters With Logos
Logo Glass Coasters Videos
Where To Use Glass Logo Coasters

Big Events
Elevate your significant events with the inclusion of glass logo coasters. Infusing an air of sophistication, these coasters enhance the overall aesthetic while effectively promoting your brand. Particularly at corporate events, making a strong impression on your guests is essential, and these coasters aid in achieving that goal. Leave a lasting imprint that keeps your brand at the forefront of minds while also elevating the event experience through the addition of glass coasters adorned with logos.

Bars
When aiming to create a sophisticated ambiance for your bar, the inclusion of glass coasters with logo imprinting can make a significant statement. The inherent opulence and feel of glass contribute to an upscale atmosphere, and the custom logo adds an extra dimension. By integrating these coasters, you'll establish a strong initial impression on customers as they experience your venue. Alongside conveying your message through impactful logos, consider slogans and other personalized images that foster a connection with users. Additionally, these coasters ensure protection against spills and watermarks on your tabletops.

Pop-Up Restaurants
Creating the right ambiance is crucial for your pop-up restaurant. As patrons indulge in your delectable cuisine, it's essential that they become fully immersed in your brand, forging a strong association between your culinary creations and your establishment. Achieve this effect with logo glass coasters, infusing a sophisticated aesthetic into the space while simultaneously safeguarding tabletops and conveying your brand's essence. When customers engage with these coasters up close, they'll be primed to absorb the message you're conveying through them, leaving a lasting impression. These tasteful and high-quality products are sure to captivate your audience.

Work Office
Workspace tabletops and desks require adequate protection. Coasters present a clear solution, but their design should harmonize with the environment to inspire your employees towards sustained focus and productivity. Logo glass coasters offer a refined aesthetic that elevates sophisticated interiors, while their durability effectively guards against spills. Moreover, these coasters can align with your brand through personalization, even integrating motivational messaging. Elevate your work office through both practical and aesthetic means with the inclusion of glass logo coasters, enhancing the workspace experience.
Tips For Glass Logo Coasters
Try to match the theme of your event or venue
The glass aesthetic should complement the theme and decor of your venue perfectly. It offers a sophisticated look, and you can choose logos and other custom graphics to enhance the effect. Keep everything cohesive and aligned with the surroundings to have a maximum impact with your logo glass coasters.
Aim for consistency across elements
Branded items in your venue or event should all work together to make an impact on your guests or customers. Make sure the custom designs you add to glass logo coasters align with the way you present your brand across other elements - a seamless look will help immerse people in your brand.
Consider glass coasters with logos as promotional items or gifts
Show loyal or VIP customers/clients that you appreciate them with the thoughtful gift of a glass logo coaster. These practical yet beautifully designed items could become a feature in their homes, and they will be emblazoned with your branding to keep you in their minds and make an impression on anyone else who sees them.
Best-Selling Glass Coasters With Logos
Custom Square Glass Coaster with Logo
Introducing our custom square glass coaster with logo - a stylish and versatile addition to any setting! Crafted with high-quality glass, this coaster can be personalized with your unique design, logo, or artwork. Whether it's for weddings, events, or promotional purposes, this custom square glass coaster adds a touch of elegance and protection to your surfaces. Elevate your decor and make a lasting impression with this personalized glass coaster that combines functionality with a touch of sophistication.
Price
We understand the importance of offering the best price for our high-quality custom glass coasters with logo. Our commitment to affordability means that you can express your unique identity without breaking the bank. By sourcing directly from trusted manufacturers and streamlining our operations, we pass on the cost savings to our customers, ensuring that you get the best value for your money when shopping with us.
Fast Delivery
We strive for fast delivery to provide you with a seamless shopping experience. Our efficient order processing and strong partnerships with reliable carriers enable us to ship your personalized logo glass coasters promptly. We understand the excitement of receiving your order, and we work diligently to ensure that your custom glass coasters reach your doorstep quickly, allowing you to start enjoying your moments in no time.
Award Winning Customer Service
We take pride in delivering the best customer service experience possible. Our dedicated team is committed to providing prompt and personalized assistance at every step of your journey with us. Whether you have questions about our glass coasters with logo, need help with customization options, or require support with your order, our friendly and knowledgeable customer service representatives are here to help, ensuring that you receive exceptional support and satisfaction. With our high-quality glass coasters with logo, fast delivery, and award-winning customer service, we are confident that your experience with us will be nothing short of delightful.