Custom Square Coasters
With custom square coasters, you have a unique combination of elegance and protection. Personalize your coaster by choosing the material
and selecting the size, custom design and more. These are ideal solutions for any occasion or business venue, produced in high-quality and competitively priced.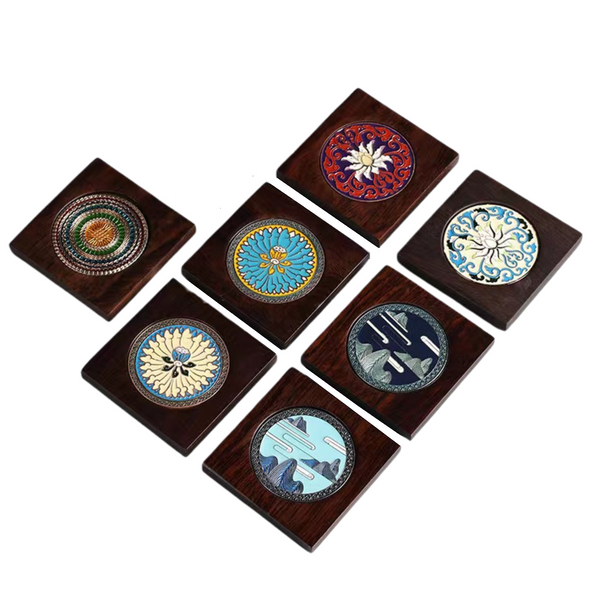 Step

Select Style

Total Qty:

0

|Price: $

0.00

Customized Ebony Alloy Coaster
1 sizes available


Super Absorbent Bar Coaster
4 sizes available










Customized Crystal Carving Coaster
1 sizes available






Leather Bottle Opener Coaster
1 sizes available


Customized Bottle Opener Coaster
1 sizes available



Customized Glass Alloy Coaster
1 sizes available

Custom Photo Fiberboard Coasters
2 sizes available

Cotton & Linen Embroidered Coasters
4 sizes available



Custom Handmade Walnut Coaster
4 sizes available



Soft Plastic Record Coaster
1 sizes available
Step

Customize Your Coaster

Total Qty:

0

|Price: $

0.00
At least 1 artwork file required with selection with Upload My ArtWork.
Preferred File Type for Better Quality Product: AI, EPS, PSD, PDF
Accepted File: JPEG, JPG, GIF, PNG, EPS, PDF, PSD, AI, BMP, TIF, TIFF

BEFORE WE START YOUR ORDER, WE WILL SEND A FREE DIGITAL PROOF OF YOUR CUSTOMIZED PRODUCT.
Step 5

Choose Your Guaranteed Delivery Date

Total Qty:

0

|Price: $

0.00
Review Order Details
Customized Ebony Alloy Coaster
Elevate the appearance of your tabletops whilst protecting surfaces with our custom square coasters. Precision-crafted, you get form and function from these coasters. Tailor your design to blend seamlessly with your event theme, branding or personal tastes. Our square custom coasters are very effective at enhancing brand visibility or contributing to a cohesive ambiance; versatility and practicality are at the core of these products. You get your choice of material and size, and you can add virtually any design you want to create unique, bespoke square coasters that make an impression that lasts on guests and customers alike. Enhance your decor and provide much-needed tabletop protection with personalized square coasters.
SPECIFICATION
Material:
PVC, Wood, Pulpboard, Kraft Paper, etc.
Shapes:
Square
Thickness:
3mm
Printing Option:
Front or Both sides
Printing Method:
Imprinted and debossed
Sizes Available:
3", 3.5", 4",and 4.5"
Custom Square Coaster FAQs
What materials do you use for custom square coasters?
We use a wide range of materials to produce personalized coasters, square or otherwise. Each has its own advantages and disadvantages, from bamboo to PVC to engraved crystal. Explore the options and find what is the best fit for your needs.
How can I keep my coaster design in line with my branding?
We provide a user-friendly design wizard that allows you to select every element of your custom square coaster design. Choose the material, color palette, size, and personalized design that best align with your needs to keep your products on-brand.
Are your square custom coasters suitable for outdoor use?
In most cases, yes. However, it depends on the material, as certain materials are better suited for outdoor environments than others. We recommend checking the properties of different materials and selecting one that offers maximum water-resistance and sufficient weight to prevent being blown away by the wind and you should have a good outdoor custom square coaster.
Can I customize my own square coasters?
Yes, you can customize your own square coasters with your preferred designs, logos, or personal messages.
What customization options are available for custom square coasters?
Custom square coasters offer a variety of customization options, including choosing the shape, size, artwork, and even adding personalized text or branding.
How do I submit my custom design for personalized square coasters?
We allow you to upload your artwork via email or through our website. Accepted file formats are JPEG, JPG, GIF, PNG, EPS, PDF, PSD, AI, BMP, TIF, TIFF.
What materials are commonly used for personalized square coasters?
Common materials for custom square coasters include high-quality that is durable, water-resistant, and can withstand wear and tear.
Can I order custom coasters in small quantities?
Yes, absolutely. Our minimum order quantity for custom square coasters is 50.
Do you give discounts to first-time customers?
We don't just give a discount for first-time customers; you can always have 10% off every time you place an order! Just use the SAVE10 coupon code upon checkout.
How can I pay if I chose the Pay Later option?
The easiest way to make a payment is by clicking the Proof Approval Link. Once you approve the proof, the system will route you to our payment page. You can also call or chat with our friendly customer service associate to assist you with the payment.
Is my bank information required if I choose the Pay Later option?
No bank information is required. The order can be canceled should the proof fail to meet your standards. Please note that we will do every attempt to keep the order by revising the proof until you are satisfied. If it still doesn't work, we can proceed with the cancellation.
What if I need to make changes after I order?
If you need to make any changes, please contact our customer service as soon as possible. No changes can be made to an order once the proof has been approved, and the production process has begun.
What happens if there is a mistake on my order?
When an error has been confirmed made by our production staff, we will process the remake exactly as how you originally requested, minus any errors that we made, at no extra cost.
Can I preview before I purchase?
We offer you a free proof before you decide to purchase, and a hassle-free experience. Simply fill up your order details, and after checkout, you may select the option of "See Design - Pay later" as a payment method. We will send you the proof once you submit the order along with the payment and proof approval link.
How do I check the status of my order?
You can always reach out to our Live Customer Service Associate via phones, emails, and chats to check the status of your order.
Do I have to have my artwork ready when I order?
It would be better if your artwork is ready at the time that you are placing the order. However, you may also upload your artwork after you order as well by emailing us. The Subject of the email would be, Artwork: Order ######
Can I place my order online?
Of course, you can. Following are the ways you can place your order: 1. Online 2. On the phone 3. On chat 4. Via email
Square Custom Coaster Reviews
Photos of Personalized Square Coasters
Customized Square Coaster Videos
Where To Use Custom Square Coasters

Nightclubs
Nightclubs are venues where drinks flow and music plays. Tabletops in these places need protection, while guests seek a vibrant and unique ambiance. A lot goes into achieving this, but you can fulfill both these requirements with personalized square coasters. Choose your material, colors, and unique design wisely to create coasters that match your venue's theme, showcase your brand, and provide durable protection for tables. Enhance your impact on guests, encouraging them to return for their next night out.

Caterings
Square coasters are an iconic choice, and you can create your own square coasters for your catering business. Personalize them to align with your branding and overall messaging when interacting with clients, and distribute them at events as you set the tables. With your elegantly customized square coasters showcasing your brand assets, guests will instantly connect your delicious food with your company name and other identifying details. Make a lasting impression and secure a top spot on their list for future catering opportunities.

Home Decorations
Your home needs both an elegant and stylish addition to the overall decor, along with reliable protection for tabletops and other surfaces. Custom square coasters offer an excellent solution, with a wide range of materials to choose from. Select a material that aligns with your taste and personalize it to match your personality and interior design. With the right design choices, you can add an element to your home that perfectly complements the ambiance, impresses your guests, and safeguards your furniture with genuine style.

Weddings
Wedding receptions bring people together around tables to eat, drink, and celebrate. This presents a chance to leave a lasting impression with intricate table designs. Elevate the ambiance of your venue by incorporating custom square coasters into your tabletop ensemble. By selecting the appropriate material and personalized design, these coasters can serve the dual purpose of safeguarding tabletops and creating a meaningful connection with your guests. Utilize our design wizard to align them with your overall aesthetic and incorporate a custom design that resonates with your guests, enhancing the overall experience of the occasion.
Tips For Custom Square Coasters
Choose the right material for your needs
Your custom square coasters can be produced in a wide range of materials. There are advantages and disadvantages for each, so you should consider the following: your aesthetic needs, your practical requirements, and your budget. Finding the right balance for all three factors will ensure you make the best choice.
Consider incorporating humor into your design
Some occasions call for sheer elegance or sentimentality. However, many venues or events are most likely to create a connection with their audience through humor. People love a humorous or whimsical custom square coaster design, so harness your creativity and let your fun side come to the surface.
Make sure your design fits well with the square shape
Custom square coasters can incorporate very impactful designs, but they need to be a good fit for the shape. If the design is not well balanced with the product's square dimensions, you may not get the best results from your coaster.
Best-Selling Square Customized Coasters
Custom Square 3in Debossed PVC Coaster
Introducing our custom square 3-inch debossed PVC coaster - the perfect combination of elegance and functionality! Crafted from high-quality PVC material, this coaster showcases your unique design or logo with a debossed imprint, adding a touch of sophistication to any setting. Personalize it to elevate your brand, event, or establishment with this custom square debossed PVC coaster that not only protects surfaces but also leaves a lasting impression on your guests or customers
Price
We understand the importance of offering the best price for our high-quality custom square coasters. Our commitment to affordability means that you can express your unique identity without breaking the bank. By sourcing directly from trusted manufacturers and streamlining our operations, we pass on the cost savings to our customers, ensuring that you get the best value for your money when shopping with us.
Fast Delivery
We strive for fast delivery to provide you with a seamless shopping experience. Our efficient order processing and strong partnerships with reliable carriers enable us to ship your personalized square coasters promptly. We understand the excitement of receiving your order, and we work diligently to ensure that your custom square coasters reach your doorstep quickly, allowing you to start enjoying your moments in no time.
Award Winning Customer Service
We take pride in delivering the best customer service experience possible. Our dedicated team is committed to providing prompt and personalized assistance at every step of your journey with us. Whether you have questions about our square coasters, need help with customization options, or require support with your order, our friendly and knowledgeable customer service representatives are here to help, ensuring that you receive exceptional support and satisfaction. With our high-quality square coasters, fast delivery, and award-winning customer service, we are confident that your experience with us will be nothing short of delightful.