Custom Beer Coasters
Custom beer coasters can protect your tables whilst enhancing the surrounding ambiance and reinforcing your brand.
Whether for your home or a drinking establishment, choose high-quality personalized beer coasters.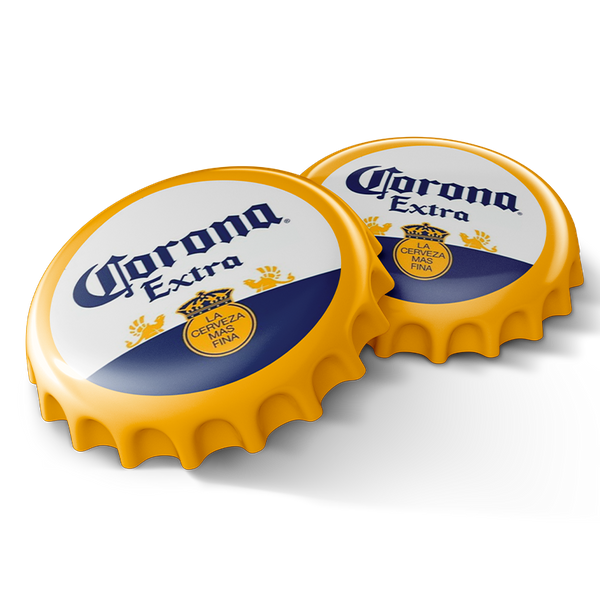 Step

Select Style

Total Qty:

0

|Price: $

0.00



Super Absorbent Bar Coaster
4 sizes available










Customized Crystal Carving Coaster
1 sizes available






Leather Bottle Opener Coaster
1 sizes available


Customized Bottle Opener Coaster
1 sizes available



Customized Ebony Alloy Coaster
1 sizes available

Customized Glass Alloy Coaster
1 sizes available

Custom Photo Fiberboard Coasters
2 sizes available

Cotton & Linen Embroidered Coasters
4 sizes available


Custom Handmade Walnut Coaster
4 sizes available



Soft Plastic Record Coaster
1 sizes available
Step

Customize Your Coaster

Total Qty:

0

|Price: $

0.00
At least 1 artwork file required with selection with Upload My ArtWork.
Preferred File Type for Better Quality Product: AI, EPS, PSD, PDF
Accepted File: JPEG, JPG, GIF, PNG, EPS, PDF, PSD, AI, BMP, TIF, TIFF

BEFORE WE START YOUR ORDER, WE WILL SEND A FREE DIGITAL PROOF OF YOUR CUSTOMIZED PRODUCT.
Step 3

Choose Your Guaranteed Delivery Date

Total Qty:

0

|Price: $

0.00
Custom Beer Coaster Description
When you choose custom beer coasters, you're making a statement with every sip. These personalized coasters not only protect your tables from beverage condensation and spills, but they also add a touch of style to your space. Whether you're looking for cost-effective disposable options or durable permanent coasters, you can customize the quantity and design to fit your needs. With high-quality production and fast turnaround, elevate your drinking experience with custom-made beer coasters that leave a lasting impression. Order yours today and toast to personalized perfection.
SPECIFICATION
Material:
High Density Pulpboard
Shapes:
Round, Square, Rectangle, & Custom Shape
Thickness:
3mm, 4mm & 5mm
Printing Option:
Front or Both sides
Printing Method:
Imprinted
Sizes Available:
3", 3.5", 4",and 4.5"
What type of material works best for custom beer coasters?
This choice depends on several factors. In bustling bars and nightclubs, disposable card coasters are a popular and cost-effective option due to their affordability and easy replacement. However, if you're aiming for a more sophisticated ambiance, custom coasters made from wood, stone, PVC, and other materials can elevate the overall atmosphere. Consider your priorities and select a design that aligns with your desired aesthetic and functionality.
How do you print custom designs onto beer coasters?
When ordering personalized beer coasters, the method of applying your design will vary depending on the chosen material. Engraving is suitable for metal coasters, debossing works well on leather, and materials like PVC, card, or fabric offer a range of color printing options. Consider your specific needs, budget, and aesthetic preferences to select the most suitable application method for your custom beer coasters.
What should I think about when designing custom beer coasters?
When it comes to personalized beer coasters, several key considerations are at play. Protecting your tables, complementing the surrounding environment, and aligning with your brand are essential factors to keep in mind. Additionally, staying within your budget and planning for the long-term are important aspects. Ordering your beer coasters in bulk provides you with substantial cost savings per unit and also ensures you have an ample supply for future needs.
Can I customize my own beer coasters?
Yes, you can customize your own beer coasters with your preferred designs, logos, or personal messages.
What customization options are available for custom beer coasters?
Custom beer coasters offer a variety of customization options, including choosing the shape, material, color, artwork, and even adding personalized text or branding.
How do I submit my custom design for personalized beer coasters?
We allow you to upload your artwork via email or through our website Accepted file formats are JPEG, JPG, GIF, PNG, EPS, PDF, PSD, AI, BMP, TIF, TIFF.
What materials are commonly used for personalized beer coasters?
Common materials for custom beer coasters include high quality walnut. That is durable and able to withstand heat and resist water.
Can I order custom coasters in small quantities?
Yes absolutely, Our minimum order quantity for our custom beer coasters is 50.
Do you give discounts to first time customers?
We don't just give a discount for first-time customers, you can always have the 10% off every time you place an order! Just use the SAVE10 coupon code upon checkout.
How can I pay if I chose Pay Later option?
The easiest way to make a payment is by clicking the Proof Approval Link. Once you approve the proof, the system will route you to our payment page. You can also call or chat with our friendly customer service associate to assist you with the payment.
Is my bank information required if I choose Pay Later option?
No bank information is required. The order can be canceled should the proof failed to meet your standards. Please note that we will do every attempt to keep the order by revising the proof until you are satisfied. If still doesn't work, we can proceed with the cancellation.
What if I need to make changes after I order?
If you need to make any changes, please contact our customer service as soon as possible. <> No changes can be made to an order once the proof has been approved and the production process has begun.
What happens if there is a mistake on my order?
When an error has been confirmed made by our production staff, we will process the remake exactly as how you originally requested minus any errors that we made at no extra cost.
Can I preview before I purchase?
We offer you a free proof before you decide to purchase and a hassle free experience. Simply fill up your order details and after checkout you may select the option of "See Design - Pay later" and place the order as a payment method. We will send you the proof once you submit the order along with the payment and proof approval link.
How do I check the status of my order?
You can always reach out to our Live Customer Service Associate via phones, emails, and chats to check the status of our order.
Do I have to have my artwork ready when I order?
It would be better if your artwork is ready at the time that you are placing the order. However, you may also upload your artwork after you order as well by emailing us. The Subject of the email would be, Artwork: Order ######
Can I place my order online?
Of course, you can. Following are the ways you can place your order: 1. Online 2. On the phone 3. On chat 4. Via email
Custom Beer Coaster Reviews
Photos of Personalized Beer Coasters
Custom Beer Coasters Videos
Use Cases For Custom Beer Coasters

Bars
In your bar, the serving of alcoholic beverages is the heart of your business. As you strive to create a welcoming ambiance and establish a memorable brand, don't overlook the importance of custom beer coasters. These coasters serve the practical purpose of protecting your tables, while also playing a crucial role in enhancing the overall ambiance and reinforcing your brand identity.

Nightclubs
Nightclubs are known for providing an unforgettable experience for friends to enjoy. As drinks flow and tables fill up, custom beer coasters become an essential tool for protecting against spills. However, their impact extends far beyond practicality. With bespoke design options, these coasters can become an integral part of the nightclub's aesthetic, enhancing the overall ambiance and reinforcing your brand. By showcasing your unique style and identity, custom beer coasters create a lasting impression.

Big Events
Whether it's a corporate event, wedding, or birthday celebration, beverages are an integral part of the guest experience. Personalized beer coasters serve the practical purpose of protecting tables and surfaces, but their impact goes beyond functionality. These coasters become a powerful medium to communicate important information, showcase eye-catching graphics, and establish a stronger connection with attendees.

Home Decorations
If you enjoy evenings at home with your favorite alcoholic beverages, personalized beer coasters are a must-have accessory. Not only do they provide essential protection for your furniture, but they also contribute to the overall interior design of your home. By making thoughtful design choices that complement your existing decor, these custom coasters can become the missing piece that adds the perfect finishing touch to your interior aesthetics whilst simultaneously completing their practical purpose.
Personalized Beer Coaster Tips
Think about cost versus benefit for custom beer coasters
Certain materials for personalized beer coasters can provide a fantastic aesthetic for your venue or event, but they may come at a higher cost. Alternatively, opting for single-use custom beer coasters can still offer a great look while being more cost-effective. However, it's important to consider that single-use coasters will eventually run out and need to be replaced. Weigh up these considerations carefully when choosing your design.
Custom beer coaster maintenance is extremely important
Whatever choices you make in terms of shape and material for your personalized beer coasters, it's crucial to properly maintain them for optimal performance. Cleaning, drying, and proper storage are essential to prolong their lifespan. By paying close attention to coaster maintenance, you can extend their durability and ensure you get the most value out of your investment.
Make considered choices at every stage of the design process
The custom beer coaster design wizard takes you through several important stages where you'll make critical decisions. From selecting the right material, size, color, shape, to crafting a bespoke design, each choice contributes to the impact and effectiveness of your personalized beer coasters. Give careful consideration to each stage.
Best-Selling Custom Beer Coaster
4 inch Custom Logo Print Beer Coaster
Introducing our 4-inch custom logo print beer coasters, the perfect accessory for your beverages. Crafted with high-quality materials, these coasters showcase your unique logo or design, ensuring brand visibility and adding a touch of professionalism to any gathering or event. Protect your surfaces while promoting your brand in style with these custom beer coasters. Cheers to memorable sips and brand impressions!
Price
We understand the importance of offering the best price for our high-quality custom beer coasters Our commitment to affordability means that you can express your unique identity without breaking the bank. By sourcing directly from trusted manufacturers and streamlining our operations, we pass on the cost savings to our customers, ensuring that you get the best value for your money when shopping with us.
Fast Delivery
We strive for fast delivery to provide you with a seamless shopping experience. Our efficient order processing and strong partnerships with reliable carriers enable us to ship your personalized beer coasters promptly. We understand the excitement of receiving your order, and we work diligently to ensure that your imprinted beer coasters reach your doorstep quickly, allowing you to start enjoying and showcasing them in no time.
Award Winning Customer Service
We take pride in delivering the best customer service experience possible. Our dedicated team is committed to providing prompt and personalized assistance at every step of your journey with us. Whether you have questions about our personalized beer coasters, need help with customization options, or require support with your order, our friendly and knowledgeable customer service representatives are here to help, ensuring that you receive exceptional support and satisfaction.